Welcome to Granite Belt Retreat & Brewery
Granite Belt Retreat & Brewery is a picturesque getaway nestled in the heart of Queensland's stunning Granite Belt region.
Set on 30 acres of natural bushland just five minutes from Stanthorpe, our country estate features 20 cedar cabins complete with log fire, a 1000 litre micro brewery plus a bar, restaurant and function centre.
Our charming accommodations and serene surroundings provide the perfect escape from the hustle and bustle of daily life.
Explore the natural beauty of the area, indulge in our range of craft beers or enjoy a meal in our bar and restaurant.
It's all here at Granite Belt Retreat & Brewery.
"Experience the ultimate retreat at Granite Belt Retreat"
EAT
Enjoy chef prepared dining in our full-service restaurant and bar.
DRINK
Taste our freshly brewed craft beers made onsite in our 1000L micro brewery.
STAY
We have 20 cosy cedar cabins and a self-contained house that sleeps 10 guests
Restaurant Opening Hours
Our restaurant is open for Lunch & Dinner every Friday, Saturday, Sunday & Monday
Lunch Available – 11:45am to 2:30pm
Dinner Available – 5:30pm to 9pm
Sunday Buffet Breakfast Available – 7:30am to 9:30am
A bar snack's menu is available DAILY from 12 – 4pm.
[NB: Snack menu served in the bar area only & is not available in the restaurant]
BOOK ONLINE NOW
Plan Your Visit to Stanthorpe & The Granite Belt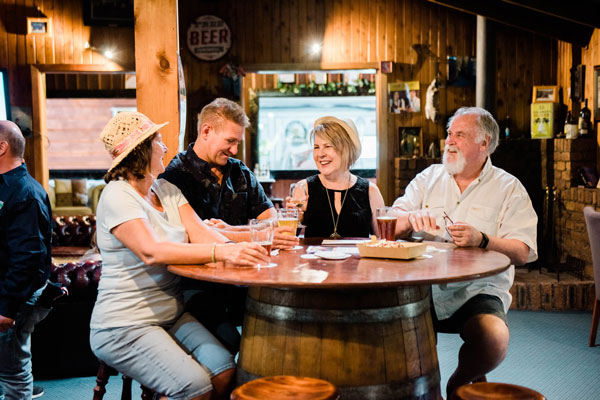 A birds eye view of our 30 acre estate.
The perfect getaway for you & your family.
What people are saying about Granite Belt Retreat…

We could only stay for one night but it was so lovely. A private log cabin with fireplace ready to go. Everything was clean and comfortable – exactly what we needed for a short stay. Loved the small touches like the breakfast crate – all produced locally and so good.
LindyBrisbane
Had a lovely stay, very cosy fireplace on a cold night, and the restaurant is great. Clean and everything you need. There are lovely walks around the area. Will definable be back. Thanks for a great stay, sorry we couldn't stay longer.
LisaBrisbane
This is a fantastic place to stay in the Granite Belt, close to the wineries and other attractions too. The brewery offers beautiful food in their restaurant, the breakfast was superb! The rooms are spotless, cosy and relaxing. The beer was great too.
KerrilynBrisbane
We loved our 3 night stay in our our little cottage. The log fire was excellent, enjoyed with a red wine (or 2) and local cheeses. The location was very convenient to explore Stanthorpe. The restaurant on site served very hearty meals. The Ribs were amazing. We'll be back.
B CSunshine Coast
Previous
Next
About Our Restaurant
Book A Table in our Stanthorpe restaurant.